Electric cars are fundamentally better

Elon Musk
The Model S: Motor Trend Car of the Year - 2013

Motor Trend
Tesla Model X is the safest SUV ever tested

NHTSA
Model 3: Most satisfying car of the year - 2018

Consumer Reports
The energy of a single thought, may determine the motion of a universe

Nikola Tesla
Drive an electric car for the best driving experience.
Rent a Tesla for a road trip, special event, curiosity or tourism. As more EVs are released, we will offer a wider line up of cars from compact sedans to SUVs.
PRICING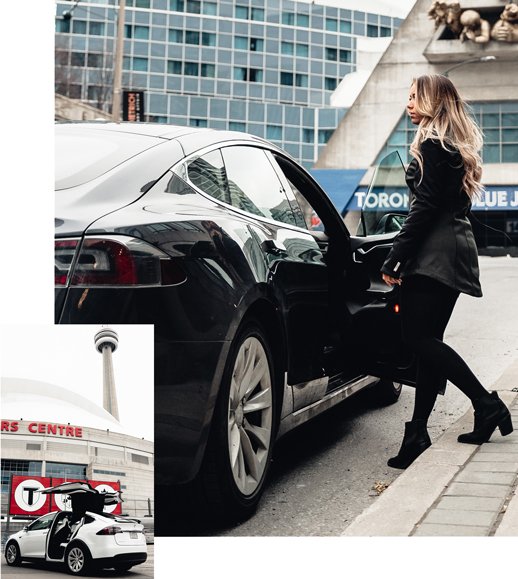 Decide Our Next Car
If you were going to pre-pay for a rental, which car would you choose?
We Come To You
Whether you are at your home, office, hotel or airport, we will deliver the car to you
*Not avail for Model 3
Sustainable Transport
Zero emissions and zero fuel costs. All our vehicles have charging cards to cover all private charging network and station costs
Paperless Booking
Booking is a streamlined quick online process with no waiting lines and no lengthy contracts to sign. Just pay, print & sign
Great Experiences
Enjoy a luxury, quiet, safe -yet fast- eco-friendly ride. Music will never sound the same and road trips will never feel the same
Safety First
All our cars are all wheel drive with 24 hour roadside assistance offering maximum safety and security in all road conditions
Thorough Training
We provide you with a complete walkthrough of all the car's features and controls before embarking on your journey
The Evoto Edge
We Come To You
Whether you are at your home, office, hotel or airport, we will deliver the car to you
Sustainable Transportation
Zero emissions and zero fuel costs. All our vehicles have charging cards to cover all private charging network and station costs
Seamless Paperless Booking
Booking is a streamlined quick online process with no waiting lines and no lengthy contracts to sign. Just pay, print & sign
A Comfortable Experience
Enjoy a luxury, quiet, safe -yet fast- eco-friendly ride. Music will never sound the same
Safety First
All our cars are all wheel drive with 24 hour roadside assistance offering maximum safety and security in all road conditions
Quick & Thorough Training
We provide you with a complete walkthrough of all the car's features and controls before embarking on your journey
Pricing
15% off 4 days or more | 20% off 7 days or more | 30% off 14 days or more
All prices are in Canadian Dollars CAD


Included: 200km/day Mileage & 2nd Driver (must be over 25)
Available: Corporate rates for companies or members that rent 20 days or more
Pricing
Rent More Save More
280/day
350/day
50/day
15%

210/day
250/day
BYOI
15%

200/day
300/day
50/day
15%
All prices in CAD & include:
Incl: 200km/day mileage, 2nd Driver
Corp. rates for companies 20 days+