Model 3 combines real world range, performance, safety and spaciousness into a premium sedan that is affordable, Model 3 Long Range achieves 500 Km per charge. Model 3 is the safest car ever tested by NHTSA. It also achieved the lowest probability of injury. With one centre console and no dashboard, it is one of the most fun cars to drive
New Minimalist Design, Same Self Driving Hardware
All Tesla vehicles produced today, including Model 3, have the hardware needed for full self-driving capability at a safety level substantially greater than that of a human driver. However, Tesla is waiting for government approval before activating full self driving. The Model 3 has advanced Autopilot features like Model S and Model X that are constantly being upgraded through over the air software updates. Model 3 has a few differences, like a new driver facing camera and a new way for the driver to activate Autopilot with a new gear selector

Minimalist Design

______________________
Model 3 is designed to be the car of the future. With little driver input when self driving is available in the future, there is no need for an HUD or other buttons. The main controls, maps, navigation, climate and even AC vents are all managed from the 15 inch touchscreen.
Keyless Card Entry

______________________
The Model 3 has no key fob. The vehicle is set to unlock via bluetooth from your phone app. A secondary mode of entry is by using a credit card sized key card that uses NFC and unlocks the door when tapped on the B pillar.

Pay Per Use Supercharging

______________________
Unlike the Model S and Model X, the Model 3 will come with a pay per use model for Supercharging. This will still be a fraction of the today's cost to fill up a tank of gas in an ICE car.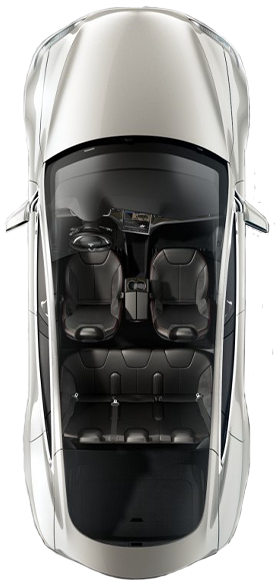 The Touchscreen

______________________
The Model 3 touchscreen is slightly smaller than the one found in Model S and Model X. It is a 15 inch landscape (horizontal) central display that controls most of the car's functions. There is no HUD or instrument cluster in the Model 3

Autopilot

______________________
The Model 3 will be equipped with the latest Autopilot 2.0 hardware. Model 3 will have the advanced Autopilot features as Model S and Model X enabled through software updates. It will also have a driver facing camera & a new gear selector to activate it

Polarizing Interior

______________________
All the physical buttons are on the steering wheel. All other controls are accessible from the horizontal touchscreen or center console. There is a single vent running the entire length of the dash that is accented with open pore wood decor